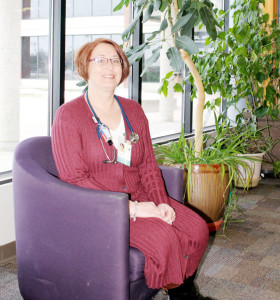 Describe your position with Cedar Valley Hospice:
As an admissions nurse, I meet with patients and families along with a social worker to discuss hospice criteria and admit patients to our program. It involves meeting with patients and families throughout our service area and offering education and support about terminal illnesses.
How does it support the mission of Cedar Valley Hospice?
Cedar Valley Hospice provides the leadership and sets the standard for excellence in delivering comprehensive palliative and end-of-life care to patients and services to those that grieve. I believe my position is important because I provide that initial information and set the foundation for the primary care staff that will be caring for those patients on a day-to-day basis.
What are the most enjoyable aspects of your job? Why?
I am always meeting new people. I think the best part of my job is knowing that I am helping others and seeing the relief from patients and family members when they realize they are not alone in this end-of-life journey.
Share a memorable story of a family or patient that has impacted you:
I had a patient when I was a home care nurse that really touched my heart. He was a physician before retiring and I had worked with him years ago. Honestly, I was always intimidated by him. When my visits first started with him as a patient he was trying to give me his own assessment. He would tell me his vital signs before I had a chance to do his assessment. One day, he called because he wanted to tell me he didn't feel right. I told him I would stop over when I was done at a local nursing home. He told me, "You don't have to do that.' I remember telling him that I was going to be gone the next day through the weekend and I needed to know he was okay before I left town. Before I left his house that day, he took my hand and thanked me. I would have done the same thing for any of my patients, but the visit that day created a special rapport between us, which allowed him to fully trust me.
In your opinion, what makes Cedar Valley Hospice stand out above the other hospice providers in the area?
I believe that Cedar Valley Hospice patients are not just a number. Our staff truly cares for each and every one of our patients. I worked with another hospice in the Des Moines area as they cared for both of my parents. It was very difficult for me to stop being a hospice nurse and just be a daughter. I had to try to not question why they did things the way they did them, because it wasn't the Cedar Valley Hospice way. I have helped patients that have had family members with other hospices and they have shared how much better the care is with Cedar Valley Hospice.