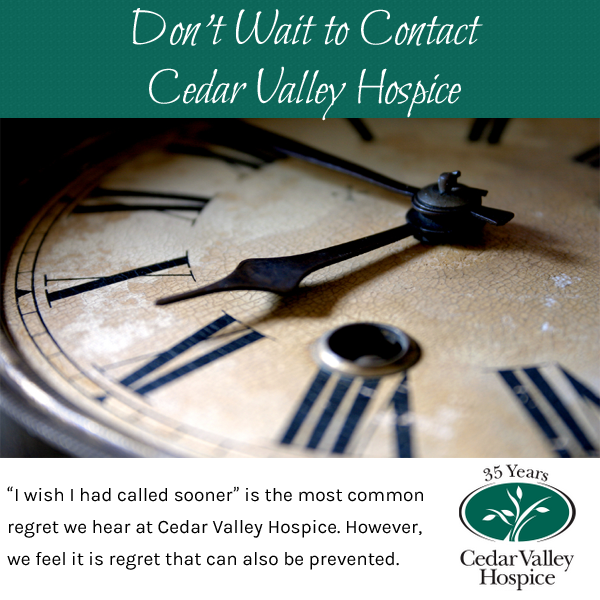 "I wish we would have called Cedar Valley Hospice sooner" is the most common regret we hear. However, it is regret that can be prevented. The more the general public is educated on what hospice is (and isn't) and how it not only focuses on the patient but on their family as well, the more we can prevent the regret that comes with wishing a call to Cedar Valley Hospice had been made sooner. Let's start with the basics.
What is hospice care?
Hospice is a special kind of care focused on the physical, emotional and spiritual needs of terminally ill patients and their families. Hospice care treats the person rather than the disease, focusing on the quality of life rather than the quantity of life. It works to ensure that a patient's remaining days are "good days." By providing care in a patient's home, nursing home, assisted living facility or wherever they are comfortable, we focus on keeping their quality of life as high as possible.
Hospice care isn't just for patients.
Cedar Valley Hospice doesn't only include services for the patient. Cedar Valley Hospice provides  social, emotional and spiritual support for patient family members and friends. Cedar Valley Hospice also offers resources on death, dying and grief to community groups, organizations and businesses.
What happens after a Cedar Valley Hospice patient dies?
Your relationship with Cedar Valley Hospice doesn't end when your loved one dies. Grief support services at Cedar Valley Hospice are offered free of charge to family members and friends of Cedar Valley Hospice patients, as well as members of the community..Grief support groups, grief counseling and bereavement mailings are just some of the ways we can help you through the death of a loved one and adjust to your new life. For children who are grieving, the Eucalyptus Tree program offers some great programs catered to the unique grieving style of children.
To make a referral to Cedar Valley Hospice, or for more information, please call 319.272.2002.