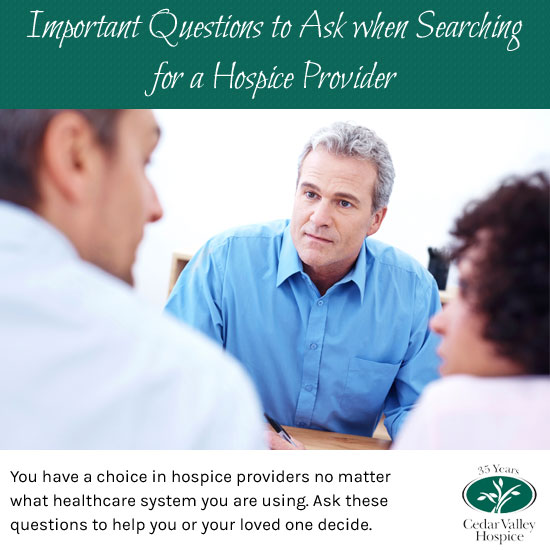 Finding a quality hospice with the services you desire for yourself or a family member is an important task. You want to be sure your loved one is in the best, most caring hands possible while receiving the services they need.
It's also important to know that you have a choice in hospice providers no matter what health care system you are using. Here are a few simple questions you can ask to determine which hospice is right for you or your loved one's care.
Questions to Ask 
Is the hospice provider Medicare certified?

Most hospices are certified by Medicare and are therefore required to follow Medicare rules and regulations. This is important if you wish to receive hospice care as part of your Medicare/Medicaid benefit.

Is the hospice a for-profit or not-for-profit organization?

Whether or not the organization is not-for-profit or for-profit, may be important for you and your family. Cedar Valley Hospice is a mission-driven, not-for-profit organization and puts our patients and families at the forefront of every decision we make.

How long has the hospice been operating in the community?

Since 1979, Cedar Valley Hospice has been providing care to patients and their families in the community, regardless of diagnosis or inability to pay.

What additional services does the hospice provide?

All hospices are required to provide expert medical care, emotional and spiritual care, medicines, medical supplies and equipment volunteers and grief support after the death of a loved one. Cedar Valley Hospice goes above and beyond to provide these services and also has the Eucalyptus Tree, children's grief program, LINK – our palliative care program, and the Cedar AIDS Support System, a program providing medical case management, care and support to those living with HIV/AIDS and their families.

How are services provided after normal hours?

Our hospice staff can be contacted 24 hours a day, seven days a week should a problem or concern arise or if hospice services are wanted.

Does the hospice offer a facility to provide short-term inpatient care, and where is it located?

Cedar Valley Hospice offers the area's only Hospice Home. This is a six-bedroom facility that offers care 24/7. Short-term patient stays (typically 3-5 days) provide pain and symptom management or other skilled nursing needs. Patients may also visit the Hospice Home for respite care.This stay provides family members temporary relief from caregiving or time to attend out-of-town functions.

What services are provided by volunteers?

Cedar Valley Hospice Volunteers have many different roles that include patient and family support, grief support and working with children. Others help at the Hospice Home or at different events held throughout the year. Volunteers at Cedar Valley Hospice go through a 16-hour training before starting.

How much does hospice care cost and is it covered by insurance?

Cedar valley Hospice care is available to everyone, regardless of their ability to pay. Medicare, Medicaid and most private insurance companies cover the cost of hospice services. Community contributions and a sliding fee scale for some programs of Cedar Valley Hospice cover costs for those who can't pay.
Why You Should Choose Cedar Valley Hospice
At Cedar Valley Hospice, our programs are comprehensive and include services not only for the patient, but for their family members and friends as well.  In addition to providing hospice care, Cedar Valley Hospice provides grief services for anyone in the community grieving the loss of a loved one, with a program specifically for grieving children. Other programs include the Cedar AIDS Support System (CASS), that provides medical case management and care and support for those living with HIV/AIDS and their families, and LINK – a program that provides supportive care to those individuals and families facing a life threatening illness and not eligible or ready for hospice services.
"Compassionate care" is a way of living and working every day at Cedar Valley Hospice.  If you or your loved one needs hospice services, call Cedar Valley Hospice today at 319.272.2202 or 800.617.1972.