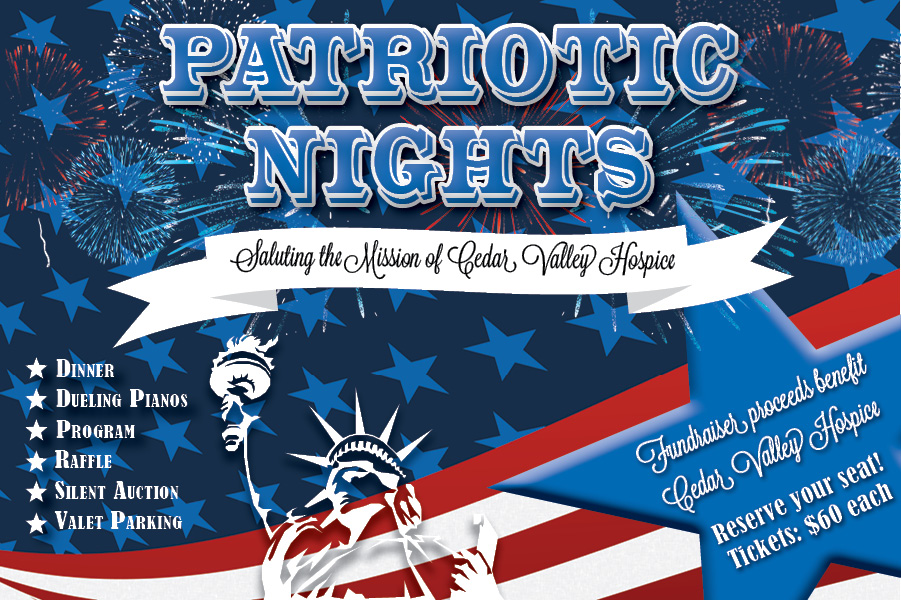 With our sixth annual Nights fundraiser coming up April 1, it's important to talk about the financial needs of Cedar Valley Hospice and how you can support the agency. Since 1979, Cedar Valley Hospice has been the leader in end-of-life care throughout Northeast Iowa. Even with a growing number of hospices, last year we served nearly 1000 patients along with hundreds more through our grief services and other non-funded programs such as our LINK palliative care and Cedar AIDS Support System (CASS). As a not-for-profit organization, our ability to provide such outstanding services is dependent on financial support from the communities we serve. Our development team and a group of dedicated volunteers on our Friends of Cedar Valley Hospice committee make sure we get the financial support we need. They are responsible for making sure resources are available to cover the gap between needed finances to care for patients and families and the amount of money we are reimbursed by traditional funding sources.
Cedar Valley Hospice also cares for non-insured or under-insured patients which require partial to full coverage by outside sources of income. Our mission is to serve anyone, regardless of their ability to pay. Many donors who support Cedar Valley Hospice designate their gifts to these patients specifically because they recognize the importance of our care being available to anyone in need.
Medicare, Medicaid and private insurance provide the bulk of monies needed to cover patient care. It's easy to recognize the basic financial needs that cover salaries and other clinical fees, but funds to cover additional services also need to be secured. These additional services include specialized grief services for children and adults, LINK Palliative Care, CASS and the Cedar Valley Hospice Home. Although these programs are not required by mandated hospice regulations, we feel they are necessary to insure the best in overall care of patients and families who choose Cedar Valley Hospice.
When you contribute to Cedar Valley Hospice it is important to know that your gifts support a not-for-profit organization whose primary goal is to provide exceptional care to anyone in need.
There are many ways to give, and we want to provide each of our donors with the vehicle to donate to the area within Cedar Valley Hospice that appeals to them the most. Gifts can always be designated to a specific program or site location if the donor chooses, and our development staff is available to work with individuals to provide giving opportunities that are mutually beneficial.
Ways to Give:
When you shop Amazon – choose Amazon Smile for Cedar Valley Hospice
Outright gifts of cash
Monthly or quarterly electronic funds transfer
Pledges (paid out over a period of time)
Memorials and Honorariums
Corporate Sponsorships
Employee matching gift programs
In-kind gifts of services or tangible items
Real estate gifts
Retirement plan gifts
Stock transfers
Planned gifts such as bequests or life insurance gifts
Charitable Remainder Annuity Trusts
Charitable Remainder Unitrusts
Charitable Gift Annuities
Charitable Lead Trust
Supporting Cedar Valley Hospice fundraising events
Our next major fundraiser will be held on Friday, April 1 starting at 6 p.m. at Park Place Event Centre in Cedar Falls. Patriotic Nights: Saluting the Mission of Cedar Valley Hospice is a fun way to assist the fundraising efforts of Cedar Valley Hospice. Enjoy a casual night of appetizers, drinks, dinner, silent auction and raffle, short program and dueling pianos! For more information, or to reserve your seat, click here!
For further information on donating to Cedar Valley Hospice, please contact Chris Olds, Development Director, at 319-272-2002 or colds@cvhospice.org.