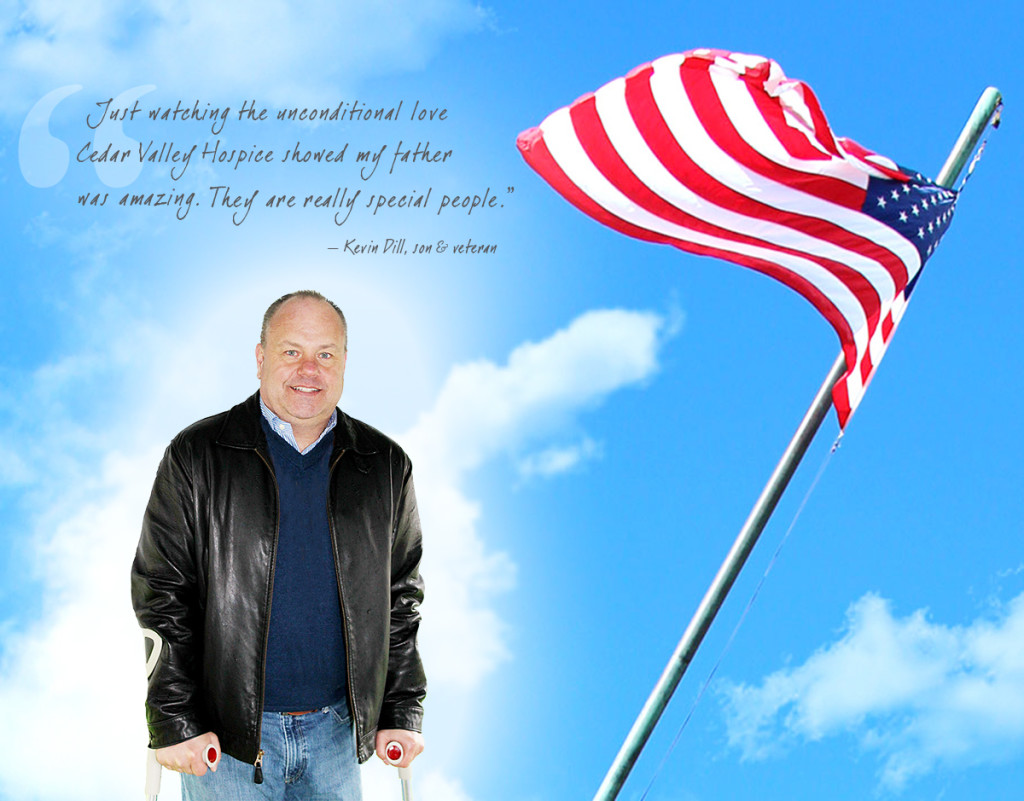 By Stephanie Abel-Hohenzy
At Cedar Valley Hospice, patients and families receive compassionate and quality care from a team of experts. Each patient's needs are different, so are their stories. This is especially true for those who have served in the military. Our veterans have done everything asked of them in their mission to serve our country and now as many of them face the end of life, it is our duty to treat them like the heroes they are and care for them with the dignity they deserve.
Kevin Dill, a Waterloo resident and Marine and Army veteran, saw this firsthand when his father, Jack, also a vet, was on our program.
"The day my father passed, I could see in his eyes that he was at peace," said Dill. "Just watching the unconditional love this group of ladies from Cedar Valley Hospice showed my father was amazing."
Did you know at Cedar Valley Hospice each patient receives their own personal care team to manage their illness and symptoms? The team includes: a doctor, registered nurse, aide, social worker, spiritual care counselor, music therapist, volunteer and grief counselor. Together they provide 1-on-1 care wherever the patient may reside – at home, a facility or a hospital.
"All their employees have servant hearts," added Dill. "They never seemed tired or frustrated, regardless of what family they were helping that day."
Beyond the care and attention, it is also amazing how the perfect quilt makes its way into the hands of a Cedar Valley Hospice patient and how much joy those quilts bring to someone who is ill and to their families that care for them. Many people are surprised to learn 25 percent of all deaths in the United States are Veterans.  A part of honoring veterans is that they each receive a special patriotic lap quilt to keep, made and donated by groups of quilters and volunteers.
Because these heroic Americans deserve recognition for their military service – particularly at the end of life's journey – Cedar Valley Hospice further made the commitment to become a partner of the National Hospice and Palliative Care Organization's "We Honor Veterans" program.
At Cedar Valley Hospice, a patient's military service is appreciated and recognized. We are there to listen and support. We can also help connect people with the Veteran's Administration for benefits or services if eligible. Locally, Dill is just the right contact person for this. As executive director of the Black Hawk County Commission of Veterans Affairs, he makes it his duty to ensure that every veteran is reached so they can receive the benefits they are entitled to. For him, service has always been a way of life, so when it was paid forward with his experience at Cedar Valley Hospice, it has stuck with him.
"The support we received as a family with Cedar Valley Hospice was like no other," said Dill. "They are really special people."
For more information on how Cedar Valley Hospice's team of experts can help your loved one, call 319.272.2002.